National Outreach
The physicians at Retina Associates feel fortunate to have received outstanding training and teaching when they began their careers and are devoted to giving back to their profession. Our doctors travel extensively both domestically and internationally working to educate the eye care community. This year alone our doctors will present at industry related conferences such as the American Academy of Ophthalmology's annual meeting, the American Society of Retinal Specialists (ASRS) annual meeting, the Association for Research in Vision and Ophthalmology (ARVO) meeting, OSN New York and the European Vitreoretinal Society. Tune in to our Facebook page for the latest details on our travels!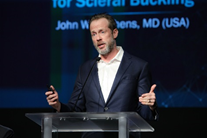 Dr. John Kitchens lecturing at the Retina World Congress, February 2017.
PAT Survey
Retina Associates' very own Dr. Thomas Stone has been the Editor for the ASRS Preferences and Trends (PAT) Survey since 2013.This survey, annually conducted since 1999, has served as a platform for vitreoretinal specialists throughout the world to compare their preferred treatment techniques on medical and surgical issues. The information serves as a valuable tool for practicing retinal surgeons as well as the specialty as a whole. By identifying trends and soliciting feedback from recognized experts on evolving topics, the retina and general eye community can keep their practices current and deliver the best patient care. In 2016, over 1000 retina specialists throughout the world participated in the survey, answering questions about the latest imaging techniques and surgical procedures. We are fortunate that Dr. Stone can contribute to the education of his profession in this meaningful way.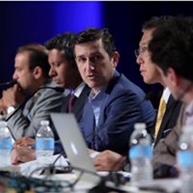 Journal Articles/Book Chapters
The RAK physicians and surgeons regularly submit research articles and are accepted for publication in some of the most respected journals in the eye care. You can find some of our work in peer reviewed journals such as Ophthalmology, Retina, American Journal of Ophthalmology and Ophthalmic Surgery Lasers and Imaging Retina Journal.
RAK's own Dr. John Kitchens recently contributed a chapter to Yanoff and Duker, Ophthalmology 4th Edition (J. Kitchens and P. Rubsamen Chapter 6.42: Posterior Segment Ocular Trauma).
Posters/Videos
Over the past 5 years, our doctors have had numerous posters and videos accepted for presentation at the annual meetings of the ASRS, ARVO and the American Academy of Opthalmology. These posters and videos have been a reflection and summarization of research we've lead within our own office on topics such as the advancement of histoplasmosis, scleral buckling, choroidal drainage, and 3D viewing techniques.