Blake A. Isernhagen, MD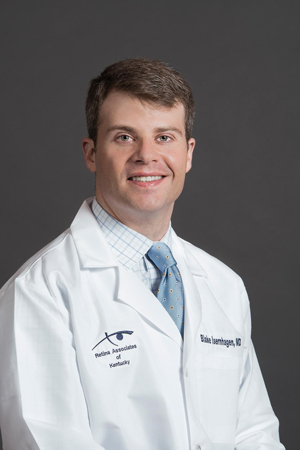 Training
Undergraduate:
University of Oklahoma
Medical School:
Alpha Omega Alpha Honorary Medical Society University of Oklahoma College of Medicine
Residency:
The Dean A. McGee Eye Institute, University of Oklahoma College of Medicine
Fellowship:
Bascom Palmer Eye Institute, Uveitis and Retina
Fellowship:
University of British Columbia, Vitreoretinal Surgery
What are your interests?
Prior to training in vitreoretinal surgery, I specialized in uveitis and medical retina. I have a special interest in the diagnosis and management of uveitis, in particular, posterior and panuveitis. These ocular diseases require special attention to the patient's medical history and can be challenging to both diagnosis and appropriately treat. I find great joy investing in these patients and stabilizing their ocular disease.
Each patient with a retinal detachment is a unique individual, and I enjoy the challenge of planning the optimal strategy for a successful surgical outcome. This involves either alone or in combination pneumatic retinopexy, scleral buckling, or vitrectomy.
What research are you working on?
During my fellowships I was involved in national clinical trials involving age related macular degeneration, diabetic retinopathy, macular telangiectasia, and uveitis.  I presented papers at the Association for Research in Vision and Ophthalmology on Autoimmune Retinopathy and Birdshot Chorioretinopathy.  I look forward to being involved in many clinical studies that are supported by Retina Associates of Kentucky.
What led you to choose Retina Associates?
I grew up in Lexington, KY and was fortunate to observe my father as an active vitreoretinal surgeon with Retina Associates of Kentucky.  I was impressed how retinal treatments had a profound impact on patient's vision and life.  Additional experiences in medical school and residency lead me to pursue specialties in uveitis and vitreoretinal surgery.  I was honored to be chosen to join the nationally recognized group of physicians with great reputations at Retina Associates of Kentucky.  I completed a fellowship in uveitis in hope I could bring additional expertise to the group.
What do you enjoy outside of Medicine?
Outside of medicine I enjoy spending time with my wife Kallista, our sons Brody (2014) and Boston (2016), and my parents and sister who also live in Lexington.  We enjoy traveling including road-trips to see our extended family in Oklahoma and Northwest Kansas. Some of my hobbies are golf, snow skiing, fishing, music, fitness training, road biking, and remote control model airplanes.   
Links and Information
Dr. Blake educates on how new technology targets treatment for Uveitis