Retinal Vein Occlusion (RVO)
An RVO occurs when a vein in the retina is blocked, which damages the blood vessels of the retina. Hemorrhages, bleeding and leakage of fluid occurs from the areas of blocked blood vessels. This is a common disease and is one of the main condition we treat with intraocular injections to improve vision.
There are 2 types of Retinal Vein Occlusion: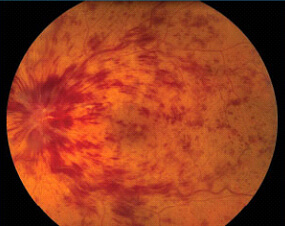 -Central Retinal Vein Occlusion (CRVO): When the main vein of the eye becomes blocked and causes hemorrhages throughout the retina.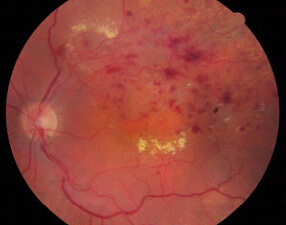 -Branch Retinal Vein Occlusion (BRVO): When one of the four smaller branches of vessels attached to the main vein becomes blocked causing bleeding in parts of the retina.
You may be at risk for developing a Retinal Vein Occlusion if you have certain illnesses, such as:
⦁ Glaucoma
⦁ High blood pressure
⦁ Age-related vascular disease
⦁ Blood disorders
⦁ Diabetes
⦁ Retinal Vein Occlusion in one eye, 10% chance of developing one in the other eye
Complications and Symptoms of RVO:
⦁ Macular Edema – this is swelling of the central vision in the eye, the macula, and is the most common cause of vision loss from RVO.
⦁ Abnormal blood vessel growth (neovascularization)
⦁ Eye pain
⦁ Sudden blurred vision
Treatments for RVO
There is no known cure for retinal vein occlusion, although in most cases, an intraocular injection is used to reduce the macular edema and maintain or improve vision. Before these injections, many cases developed macular edema and people went blind from macular edema. Now, however, these injections are saving the vision of most patients, and are the standard of care for this disease. At times, some laser or surgery is also required, but this is not common.
Retina BRVO Injections Video
Retina CRVO Injections Video