Todd J. Purkiss, MD, PhD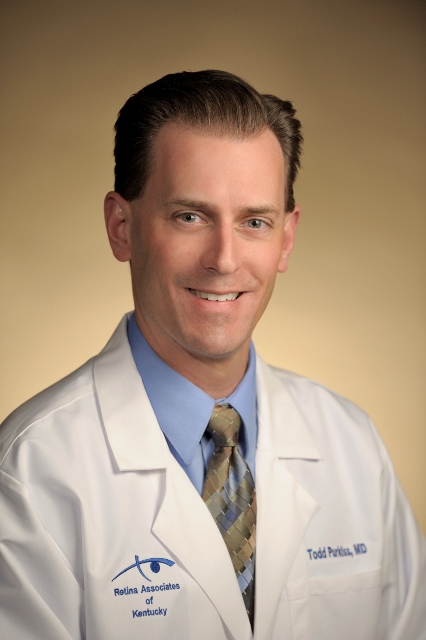 <
Todd J. Purkiss, MD, PhD completed his doctorate in Perception and Sensory Physiology at the University of Louisville Department of Psychological and Brain Sciences, prior to medical school, during which he studied human visual processing. He later completed his ophthalmology residency at the University of Louisville, being chosen as Chief Resident in his final year. His fellowship training in Medical Retina was completed at the Duke Eye Center. He is also a long time delegate to the Kentucky Medical Association and an active member of the Greater Louisville Medical Society.
What led you to choose Retina Associates?
I had already been practicing medical retina in Louisville for over 5 years, when I was approached about joining Retina Associates of Kentucky.  I saw it as an offer I could not pass up.  The practice is highly regarded throughout the retina community as demonstrating excellence in patient care, as well as clinical training and research.  Simply put, it was the perfect fit for me.
What are your interests?
I am primarily interested in the evaluation and management of macular degeneration and diabetic eye disease, though I am honestly fascinated by everything about the retina.  In pursuing my Ph.D., I studied retinal circuits and how they relayed information through various pathways into the visual processing centers of the brain.  When I decided to continue from there to pursue a degree in medicine, ophthalmology–and retina in particular–was the obvious specialty choice.  My residency training began around the same time the era of retinal pharmacotherapy really took off, and the available options continue to grow.  Now is a very exciting time to be a medical retina specialist.  We have access to diagnostic modalities and treatment schemes that allow us to confront challenges like never before, and there is more on the horizon.
What research are you working on?
I am currently the chairman of our research committee, so I help oversee the numerous clinical trials, both planned and underway, at Retina Associates of Kentucky.  At any given time, we have half a dozen or more active clinical trials evaluating the most cutting-edge medical and surgical treatments for retinal disorders. You can view our active studies here here. The dedication to clinical research was one of the many qualities that drew me to join this practice.
What do you enjoy outside of medicine?
The majority of my life outside of the office is dedicated to my family.  My wife, Amy, has been with me since our freshman year in college.  She has been my rock, through all these years.  We enjoy spending time together and with our two boys, Logan and Mason, as well as our dog, Bogey.  Keeping up with the boys' school and sports is challenging at times, but watching them grow is one of the most gratifying aspects of my life. More recently, I decided to take up the drums. I've always wanted to learn an instrument!
Links and Information
Select Publications
Rosai-dorfman disease diagnosed because of bilateral choroidal masses.
Multifocal choroiditis secondary to the reactivation of epstein-barr virus.
Effect of granulocyte colony-stimulating factor on the incidence of threshold retinopathy of prematurity.
Association of inflammatory eye disease with granuloma annulare?
Adaptation of spatiotemporal mechanisms by increment and decrement stimuli