Aaron M. Ricca, MD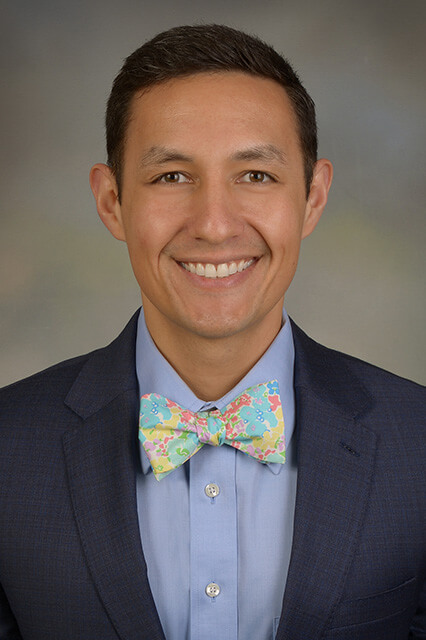 What are your interests?
I have a great interest the medical and surgical management of retinal disease due to diabetes. It is the leading cause of vision loss in working aged adults and accounts for a significant loss in quality of life years and productivity worldwide. Diabetes is a chronic disease and caring for patients with chronic illnesses allows you to build meaningful doctor-patient relationships, which are both rewarding and important in good medical care.
I also have an interest in inherited retinal disease. My fellowship experience afforded me the exposure to one of the most robust inherited retinal disease clinics in the nation. Medicine has entered the era of gene and stem cell therapies, with ophthalmology at the forefront. As a previous mechanical engineer, I greatly appreciate the ever-evolving imaging technologies we use to diagnose and manage our patients.
What research are you working on?
I performed microsurgical lab research and published manuscripts on the surgical management of diabetic tractional retinal detachments, intravitreal injections, and inherited retinal disease. I am excited about the opportunities to participate in the ongoing clinical trials available at Retina Associates of Kentucky, as well as pursue individual academic interests. I hope to leverage my experiences thus far to contribute to the field of ophthalmology while caring for the people of Kentucky.
What led you to choose Retina Associates?
Retina Associates of Kentucky is a nationally respected practice that offers opportunities not found in many places in the nation. First and foremost, my colleagues are all outstanding physicians and genuinely great humans. They possess strong core values with a good ethical compass. The environment enables us to provide such a high level of patient care with excellent expertise. I enjoy clinical research and teaching; RAK has numerous active clinical trials and fosters a surgically heavy vitreoretinal fellowship training program. Our practice provides a platform to make a meaningful impact in our community and our profession. For these reasons, along with being able to live in the beautiful state of Kentucky, I am proud to practice with Retina Associates.
What do you enjoy outside of medicine?
My family is the most important thing in my life. My wife and I have two younger kids, a daughter and a son, who are just as loving as they are energetic. As a family we love to cook and bake and play outdoors. When traveling, we look to the local cuisine to experience different cultures and take the inspiration back home with us. Depending on the time of year, I try to fly fish or hunt as frequently as time permits. Fall holds a special place in my heart due to the abundance of available fishing and hunting, football, and both my children's birthdays.