Belinda L. Shirkey, MD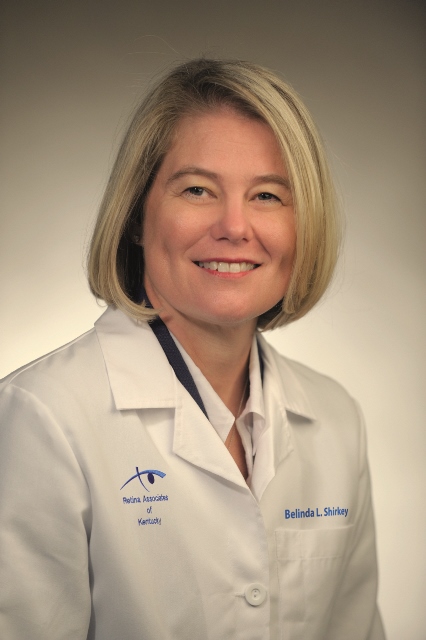 Training
Undergraduate BA:
Hendrix College
Medical School MD:
University of Arkansas
Residency:
Manhattan Eye, Ear and Throat Hospital, New York City
Fellowship:
Duke University Eye Center
Honors:
Howard Hughes Research Scholar, National Eye Institute
Select Publications
Landa G, Shirkey BL et al.   Acquired senile retinoschisis of the peripheral retina imaged by spectral domain optical coherence tomography:  a case report. Euro J Ophthalmol.2010 Nov-Dec; 20(6): 1079-81.
International Syphilis Study Group Collaborator, acute syphilitic posterior placoid chorioretinitis: report of a case series and comprehensive review of the literature. Retina. 2012 Oct; 32(9): 1915-41.
Fine HF, Zhitomirsky, Freund,Barile, Shirkey, Samson, Yanuzzi.  "Bevacizumab (Avastin) and ranibuzumab (Lucentis) for choroidal neovascularization in multifocal choroiditis. Retina. 2009 Jan; 29(1): 8-12.
Brenner, Meyer, Shirkey, Toth. "Macular translocation with radial scleral outfolding: experimental studies and initial human results. Grafe's Arch Clin Exp Ophthalmol (2001) 239:815-823.
Medical Retina Chapter The Manhattan Eye, Ear & Throat Hospital Pocket Guide, Thieme, 1999.
Shirkey BL, Gery I, et al. "Immunomodulartory effects of linomide in animals immunized with immunopathogenic retinal antigens: dissociation between different immune functions. Clinical Experimental Immunology. 1997 Jun; 108 (3):539-44.
W.C. Arnold, B.L. Shirkey, P Frindik, E. Ellis. "Effect of Growth Hormone on Kidney Growth  and Glomerular Structure. Pediatric Nephrology. 5:529-532.1991.
R.T. Fisser, W.C. Arnold, R.K. Charlton, R.W. Steele, S.H. Childress, and B.L. Shirkey. "T-lymphocyte Subsets in Nephrotic Syndrome. Kidney International. 40:913-916.1991.
Retina Physician Management of Submacular Hemorrhage Associated With AMD 3/1 2007
What led you to choose Retina Associates?
After practicing in New York City for 13 years based at the New York Eye and Ear Infirmary, I was drawn to the concept of a fully integrated private practice with an academic bent.  Tom and I have been friends since our training days at Duke.  With William, Rick, John and Todd, I knew instantly that I had found a highly functional team of nationally respected, exceptionally skilled colleagues.   We share common core values of excellence in patient care and research with a dedication to mentoring the next generation of retinal specialists. This coupled with an opportunity to live and raise children in a charming and sophisticated, cultured Southern town was irresistible.
What are your interests?
Advancing patient care in a data driven, efficient manner with emphasis on the art of medicine.
Macro delivery of care with telemedicine.
In office surgery delivery systems.
Surgical instruction.
What research are you working on?
New devices for drug delivery and new drugs remain the drive of research.  This is particularly exciting for our AMD patients who are now are dependent on frequent dosing to preserve vision.
I am also working on developing methods of consistent teaching for vitreoretinal surgeons.
Links and Information
Family Practice Interview
Midday KY Dr. Shirkey Diabetic Eye Disease Discussion
Dr. Shirkey Shares Diabetic Eye Disease Facts
Dr Shirkey of RAK on Solar Retinopathy
StantonMD- Retina Associates of Kentucky- Research