William J. Wood, MD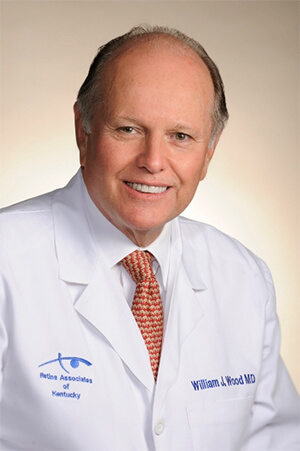 Training
Undergraduate BS:
University of Kentucky
Medical School MD:
University of Kentucky
Residency:
Wilmer Ophthalmological Institute, Johns Hopkins University and Hospital
Fellowship:
Retina and Vitreous, Diseases and Surgery
Massachusetts Eye and Ear Infirmary, Harvard University
Heed Fellowship Award Recipient
Honors:
"Best Doctors in America"
Awarded "America's Top Ophthalmologists"
Recognition:
Past President Kentucky Academy Eye Physicians and Surgeons
Past President Lexington Academy Eye Physicians and Surgeons
Member, Board of Governors, The Wilmer Eye Institute, The Johns Hopkins Hospital
Member, The Macula Society, The American Society of Retina Specialists
Academic Affiliation:
Clinical Professor
The Department of Ophthalmology
University of Kentucky College of Medicine
What guided you as you founded Retina Associates of Kentucky?
I felt the most important principle was to insist on excellence in every facet of the practice. Adherence to this guideline has ensured that, almost 45 years later, we have the largest and most experienced eye care practice in Kentucky dealing with diseases of the retina, macula and vitreous.
What has been your greatest satisfaction professionally?
It has been tremendously satisfying to have helped the practice grow as Rick, Tom, John, Todd, Belinda, Blake, Jack and Miguel have joined, and as their practices have matured and flourished. They are truly among the brightest and most accomplished physicians and surgeons anywhere as well as close friends. I am proud that our practice is recognized as one of the very best in the United States for the quality of our innovative care and research. I am also very pleased to have been the founding Chairman of the Macular Degeneration Institute.
What are your primary medical interests?
I enjoy serving as a consultant for patients with all varieties of retina, vitreous and macula problems. I value teaching our Fellows, helping them find the correct diagnoses, and optimizing the management of treatment for each patient. Surgically, I am fond of operating in our offices, but am delighted that Tom, John, Belinda, Blake and Miguel have assumed responsibility for all hospital operations with their outstanding surgical skills and results. I am pleased to serve as Vice Chairman of our board and assist with administration of our award-winning practice as we continually improve our facility and engage all staff so that we will continue to be on the forefront of providing state-of-the art-care. I am also excited to help lead the expansion of our practice to deliver care on a state-wide basis.
What do you enjoy outside of medicine?
I really enjoy being with my wife Jenny and our five children, six grandchildren and other family members for get-togethers at our family farm just outside of Lexington, and at other family locations. Jenny and I walk and swim nearly every day and I value the peace that is associated with nature, farming and gardening.
Meet William J. Wood, MD – Eye to Eye Video Interviews
Dr. Wood – "What Guided You"
Dr. Wood – "Educational Background Wood"
Dr. Wood – "Macular Degeneration"
Dr. Wood – "Greatest Satisfaction"
Links and Information on Dr. Wood
Age Related Macular Degeneration Awareness – An Interview with Dr. Wood
StantonMD Episode #5- Bluegrass Airport Fire, Retina Associates, and Congressman Barr
Retina Associates of Kentucky- Segment #3- Hypertensive/Diabetic Retinopathy