Sheila M. Garcia Santana, MD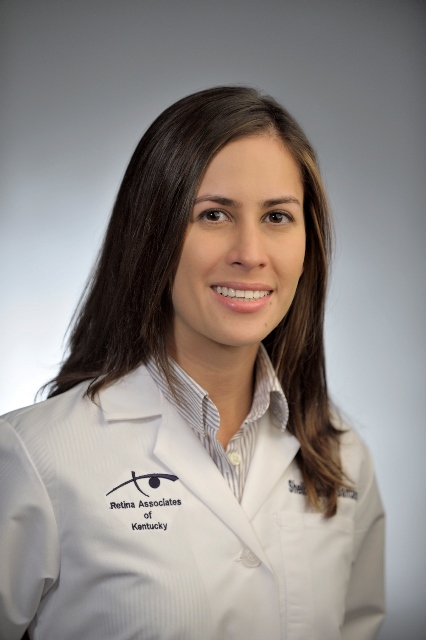 Training
Undergraduate:
Pre-Med Studies, University of Puerto Rico
Medical School:
Doctor of Medicine, Alpha Omega Alpha, University of Puerto Rico School of Medicine
Internship:
Massachusetts General Hospital, Harvard Medical School
Residency:
Boston Medical Center, Boston University School of Medicine
Surgical Vitreoretinal Fellowship:
Yale-New Haven Hospital, Yale School of Medicine
Professional Affiliations
American Academy of Ophthalmology
American Society of Retina Specialists
American Medical Association
Vit-Buckle Society
Kentucky Academy of Eye Physicians and Surgeons
Kentucky Medical Association
What are your interests?
In the last decade there has been incredible growth in the field of retina. There have been important advances in the medical management of macular degeneration and diabetic macular edema. The surgical management of retinal disease is also changing with smaller gauge vitrectomy and more sophisticated equipment. My interest in this growing and exciting field led me to pursue a two year fellowship in vitreoretinal surgery.
I'm interested in the surgical management of retinal detachment, macular holes, and epiretinal membranes. I'm also passionate about the treatment of medical retina conditions such as diabetic retinopathy, macular degeneration and vein occlusions. During my fellowship training at Yale I had significant exposure to the diagnosis of ocular inflammatory conditions called uveitis. I enjoy the treatment of uveitis which allows me to integrate my medical background into the management of complex retinal-choroidal diseases.
What research are you working on?
One of the most exciting aspects of being a physician at Retina Associates of Kentucky is being able to provide patients with access to clinical trials for the most common retinal diseases. We participate in 10-15 clinical trials for retinal conditions like wet macular degeneration, geographic atrophy (dry macular degeneration), diabetic retinopathy, diabetic macular edema, and vein occlusions. This is a huge benefit for our patients Kentucky with blinding retinal conditions that have no approved treatment, or patients who have not responded to standard care.
What do you enjoy the most about Retina Associates?
Being originally from Puerto Rico and having trained in the northeast for 6 years, Kentucky is a big change for me. My mentors and other highly regarded leaders in the field recommended that I join Retina Associates of Kentucky, a group that has an exceedingly good reputation at both the local and national level, with a strong presence at national meetings of retinal surgeons. The group has a commitment to education and research which is very important to me. At RAK we work with fellows who are fully trained ophthalmologists sub-specializing in the field of retina. This is a very satisfying part of my job to be able to participate in the training of future generations of retina surgeons. We participate in regular educational conferences and we work with fellows both in clinic and in the operating room. I have tremendous respect for all the doctors in the practice. I'm fortunate to be working together with such a dedicated, well-trained, and reputable group of physicians and surgeons.
What do you enjoy outside of medicine?
My greatest passion outside of medicine is music. I spend my downtime searching for and listening to a variety of music such as salsa, Latin jazz, chill lounge, world folk, and reggae. I enjoy doing all Latin dances including salsa, cha-cha and bachata. I enjoy travelling, eating out, and spending time with my husband Anshu, son Felipe and our two dogs Aspen and Kashmir.
Links and Information on Sheila Garcia Santana, MD
Dr Garcia Moms Every Day Diabetic Eye Disease
Dr Garcia WSAZ Facts About AMD